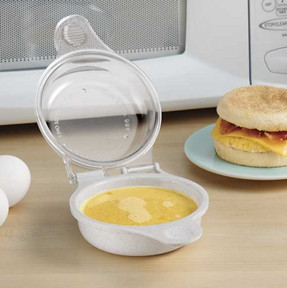 Microwave Egg Muffin Cooker
Product Description
Name:
Microwave Egg Muffin Cooker
Item:
WK0034
Features:
Enjoy yummy egg & muffin breakfast sandwiches at home!
Simply beat 1 or 2 eggs right inside the cooker, add cooked bacon, sausage or ham, then microwave.
In just 60 seconds, you'll have a perfectly cooked 4" diameter cooked egg—just the right size for an English muffin.
Don't forget the cheese!
Plastic.
Hand wash.